Fighting gangs from the 1950s in New York City were obviously known for rumbles and brawls, which defined who they were.  Without the violence, it's not much of a fighting gang.  However, gang fights did not solely define them.  In what wouldn't be a surprise to most people, gangs didn't spend every waking hour fighting.  In fact they took part in lots of harmless activities such as hanging out on the stoop, watching movies, playing sports and going to dances and parties.  But there were lots of illegal activities that gang members participated in as well; sometimes individually, sometimes with each other, these activities ranged from smoking pot, stealing cars, shoplifting, possession of weapons, burglaries, and, in what I am coming across a lot lately, breaking into parking meters.
In this particular case – as can be seen below in the police report, – two boys by the name of Alberto Torres and George Rivera, were arrested in December 1956 for possession of a .22 caliber pistol.  Nowhere in this report or the rest of the District Attorney's case file did it refer to them being in a gang.  However, just because gang affiliation isn't brought up, doesn't mean they weren't in a gang.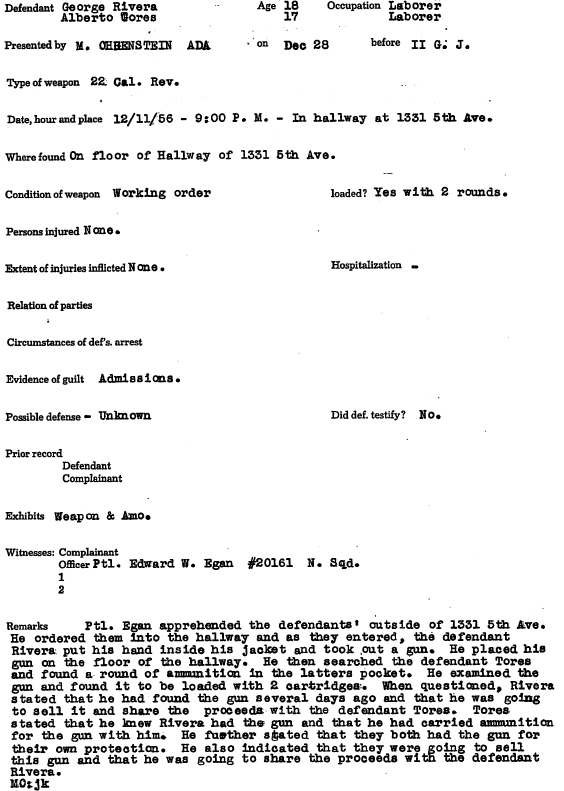 In other extant sources, it turns out that both Rivera and and Torres were members of the notorious Viceroys' gang from East Harlem, bitter enemies with the nearby Dragons.  Even with the DA not bringing it up, (he probably didn't see a need to), the fact the boys were in possession of a weapon such as this is a serious indication they could have been in a gang.  In addition to this, in an interview with another former Viceroy not affiliated with this case, he confirmed with me that Alberto Torres was in the Viceroys.  Thus, the picture becomes less hazy and more complete and gives us a tiny glimpse into one of the other illegal activities gang members participated in.
Below is a picture of the spot where Rivera and Torres were caught by the police – 1331 Fifth Avenue in East Harlem.  Most likely this was not the building in place in 1956 and the one in the picture was probably it's replacement.